|

Weekly Service Schedule
Sunday School – 10:00 am
Sunday Morning Worship – 11:00 am
Sunday Evening Service – 6:00 pm
Midweek Bible Study – 7:00 pm, Wednesday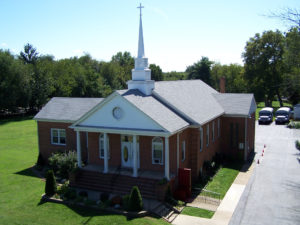 Welcome, and thank you for visiting Calvary Bible Baptist Church online. We would love to have you visit us and enjoy the fellowship of Jesus Christ with you. For over 55 years, many have called our church "home". Here you will find the sweetest people this side of Heaven. If you are from out of town, we would love to have you in for a visit. If you live in the area and are looking for a church to call your "home", welcome home!
First Visit
We are thrilled that you are considering visiting us at Calvary Bible Baptist Church. We hope and pray that you will find a warm welcome and enjoy learning and growing in Christ with us on your visit.
Every Sunday morning and evening we meet in the auditorium for our services. As you come in, an usher will be happy to greet you and help you find a seat. He will also be available to answer any questions you may have.
We provide nurseries for babies and toddlers ages newborn through 3 years old. Please ask an usher to direct you.
At the conclusion of each service, the pastor would love to meet you and answer any questions you may have.